FREE Sample Copy Request Form
Please complete this form and we'll send you a copy of a past issue of Meat Industry Insights Newsletter to review. Current editions are only available to paid subscribers. Click here for subscription information.
Note: Regular subscriptions are sent out twice a month by mail or email.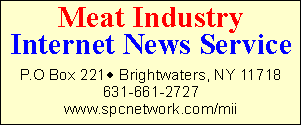 e-mailto: sflanagan@sprintmail.com