021107 Nebraska Firm Recalls Beef Due to E. Coli
November 10, 2002

Washington - A Nebraska meat plant voluntarily recalled about 110,000 pounds of frozen ground beef that may be contaminated with Escherichia coli O157:H7, the US Department of Agriculture said.

The USDA said no illnesses have been linked to consumption of the product.

Skylark Meats Inc. recalled ground beef products produced on September 10th and distributed to retail stores and institutions nationwide.

"If consumers are in possession of the recalled product, then they should return it to the point of purchase," said Garry McKee, administrator for USDA's Food Safety and Inspection Service.

The company was not immediately available for comment.

The problem was discovered through microbial testing conducted by Nebraska's Agriculture Department.

The affected ground beef was sold in 3-pound and 1-pound tubes with a label that bears "EST. 4215" inside the USDA seal of inspection.

In October 2000, Skylark withdrew 47,000 pounds of its ground beef from the market because of E. coli concerns.

The USDA temporarily shut down a Cargill plant in October after its ground beef was liked to at least 57 cases of E. coli-related illnesses in 7 states. The plant has since been reopened.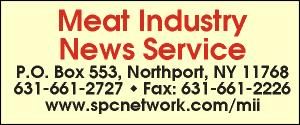 E-mail: sflanagan@sprintmail.com