020846 Ontario Invests In Beef Industry
August 28, 2002

Guelph, Ontario (CNW) - The Ernie Eves government is investing more than $1 million in a farm food safety program that will help ensure that beef from Ontario farms is of the highest quality, Minister of Agriculture and Food Helen Johns announced today. The balance of the $2.3 million Healthy Futures for Ontario Agriculture project will be provided by the Ontario Cattlemen's Association, Beef Improvement Ontario and beef farmers across the province.

"By implementing on-farm food safety programs such as 'Quality Starts Here,' our producers can assure processors, retailers and consumers that our beef is the best," Johns said. "I have every confidence that this project will mean increased competitiveness and markets for the entire Ontario beef sector."

Under the project, the 25,000 beef farmers in Ontario will be encouraged to review all production processes and systems to identify potential food safety hazards and the best ways to avoid them. Each producer will develop standard procedures for key control points, monitor and record performance, and define a corrective action protocol if problems do occur. The project will also include an identification system for tracking beef from the farm to retail outlets.

"The beef sector is an important economic driver in this area, and I'd like to thank Minister Johns for her commitment to making sure it continues to be on the leading edge," said Brenda Elliott, MPP for Guelph- Wellington.

"The Ontario Cattlemen's Association is excited to lead Ontario as the first province to begin implementing the Quality Starts Here Verified Beef Production program," said Mike Buis, President, Ontario Cattlemen's Association. "This program will help producers improve their farming operations and document their part in ensuring safe beef for Ontario consumers."

The Healthy Futures for Ontario Agriculture program is focused on enhancing the safety and quality of Ontario food products, capitalizing on marketing and export opportunities, improving rural water quality and making efficient use of water resources. Information about the program can be obtained by phoning 1- 888-588-4111 or by visiting the Ontario Ministry of Agriculture and Food's web site at www.gov.on.ca/omaf.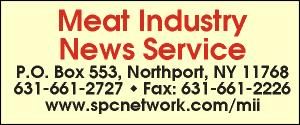 E-mail: sflanagan@sprintmail.com