020605 Smithfield Confirms Bid for Farmland Meat
June 1, 2002

Chicago - Smithfield Foods Inc. , the No. 1 U.S. pork producer, confirmed that it had renewed its offer to acquire the meat operations of Farmland Industries Inc., the largest U.S. farmer-owned cooperative.

In a letter sent to newly installed Farmland Chief Executive Robert Terry, Smithfield said it would help the cash-starved co-op meet a debt payment of $10 million due to its lenders on Friday, if Farmland would agree to sell Smithfield its meat and pork operations. The businesses make up the bulk of Farmland's refrigerated foods division, which has annual sales of roughly $4.75 billion.

The letter does not disclose a price but offers a cash deal at full market value. Smithfield, based in Smithfield, Virginia, is also requesting a meeting Friday with Farmland executives and its bankers, whose syndicate is led by Deutsche Bank AG.

"Our proposal provides Farmland with an alternative that we believe will enable it to avert bankruptcy, preserve its members' equity and any attendant uncertainty regarding their business, protect the interests of Farmland's creditors and solve Farmland's liquidity crisis," said Smithfield Executive Vice President Richard Poulson in a statement Friday morning.

A representative of Kansas City, Missouri-based Farmland was not immediately available to comment on the offer. Farmland repeated late Thursday its prior stance that the meat and pork operations, its most profitable businesses, will not be sold.

But Smithfield analysts appeared enthusiastic about the pork producer's prospects of adding one of the largest remaining independent U.S. beef processors to its portfolio.

"The assets would be an excellent strategic fit," wrote Credit Suisse First Boston analyst David Nelson in a research report Friday. "The rumored price near 5 times EBITDA (cash earnings) would be a good one. This would take Smithfield's share in pork packing from about 19% to 27% and in beef from 7% to 15%."

FARMLAND FOCUSING ON FINANCES

Farmland has been scrambling to get its finances in order. In addition to the first loan payment due in its $500 million credit facility, Farmland must also Friday comply with a number of financial ratios related to its cash position.

Smithfield said in the letter that it is willing to discuss a variety of alternatives for how Farmland would be operated under its fold, including the retention of an equity interest by some of the members of Farmland's beef operations.

Farmland's beef business, U.S. Premium Beef, has said it has the right of first refusal for Farmland's beef operations, which are held in a partnership called Farmland National Beef. Farmland owns roughly 70% of the venture.

Farmland, which has about $12 billion in annual sales, ranks as the fourth-largest beef processor and sixth-largest pork processor in the U.S.

A mix of market troubles, including a prolonged slump in the company's fertilizer business and problems in petroleum operations, have hurt Farmland's financial position.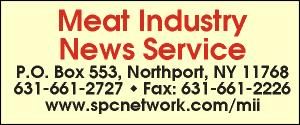 E-mail: sflanagan@sprintmail.com