020509 Smithfield First to Sell Branded Fresh Pork in Japan
May 4, 2002

Smithfield, VA - After establishing early marketing successes in the United States, Smithfield Packing Company is taking its branding strategy abroad. The Smithfield brand has become the first U.S. name to appear on fresh pork in Japan.

Through its strategic partner, Sumitomo Corporation, Smithfield Packing has reached an agreement with Ito Yokado Co. LTD., the second-largest food retail chain in Japan, to sell Smithfield branded fresh pork throughout the country in 181 stores. The Ito Yokado Group is a major retailing force in Japan with sales of more than $23 billion.

"Smithfield has succeeded in differentiating pork in terms of quality in Japan," said Lewis R. Little, president and chief operating officer of Smithfield Packing. "After incidents of livestock disease in Japan and neighboring Taiwan, Japanese consumers must feel confident about the source of supply. Our vertical integration model provides for traceability, or the ability to furnish as much information as possible about a finished pork product's origins," he said.

Mr. Little said that vertical integration also delivers quality and consistency. "Without these attributes, we could not put our brand on the product. These valuable competitive advantages are the reasons our sales have grown at double-digit rates in Japan for the last three years," he said.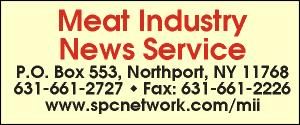 E-mail: sflanagan@sprintmail.com