020444 Omaha Steaks Among America's Best-Tasting Foods
April 30, 2002

New York - Honoring the nation's best-tasting foods, the American Tasting Institute (ATI) bestowed its 2002 "Gold Medal -- Excellence in Taste" to Omaha Steaks for its Filet Mignon and Boneless Strip Steaks at a Carnegie Hall ceremony yesterday.

Omaha Steaks emerged as the winner in a blind taste test of mail order steaks conducted by a panel of professional chefs in San Francisco. The products were judged on appearance, freshness, and, most importantly, taste. All products receiving the prestigious award were judged "excellent" in all categories.

"Taste is our principle criterion and our professional chefs were impressed with both the flavor and tenderness of the Omaha Steaks," said Chef Jesse Sartrain, national director and master taster for the ATI, an organization of professional chefs. "Omaha Steaks are grain-fed and come from the heart of beef country and the taste speaks for itself."

"For 85 years, Omaha Steaks has built a reputation for offering the finest quality Midwestern beef," said fifth-generation family owner and Senior Vice President Todd Simon. "We are extremely proud to accept this award and honored to have been voted 'Best of Show' in the Mail Order Steak category."

About Omaha Steaks

Omaha Steaks, founded in 1917, is an Omaha-based, family owned business that markets and distributes a wide variety of premium steaks, red meats and other gourmet foods. Over the years, the company has earned a reputation as the nation's premium purveyor and marketer of the finest in USDA-approved, grain-fed Midwestern beef. Markets nationwide and overseas include food service, mail order, incentive, interactive, telesales, retail stores, licensed restaurants and sales to specialty and food stores. Today, Omaha Steaks is recognized as the nation's largest direct response marketer of gourmet steaks and frozen foods.

About American Tasting Institute

Chef Jesse Sartrain and his professional chef colleagues founded the American Tasting Institute (ATI) in 1993 to promote taste, safety and nutritional standards. Since that time, they have evaluated thousands of products. Today, ATI is comprised of an independent panel of more than fifty chefs, Master Tasters and Culinarians-in-Residence, dedicated to judging and promoting quality American-made products.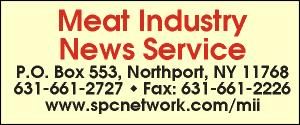 E-mail: sflanagan@sprintmail.com