020245 USDA Finds Salmonella at 5 Turkey Plants
February 16, 2002

Washington - New federal data shows high levels of disease-causing salmonella in raw turkey products from five US plants owned by ConAgra Foods Inc., Cargill Inc. and other companies, a consumer group said.

The Center for Science in the Public Interest said it obtained data from the US Department of Agriculture (USDA) that showed nearly half of the turkeys processed at ConAgra's plant in Longmont, Colorado, last year were contaminated with salmonella.

Salmonella can cause vomiting, diarrhea and fever in healthy adults and can be fatal for elderly people or those with weak immune systems. There are 1.4 million cases of salmonella infection in the US every year, and about 600 Americans die from the bacteria, according to US health officials.

The USDA collected the salmonella testing information between April and October 2001, according to the consumer group, which received the results under the Freedom of Information Act.

Caroline Smith DeWaal, food safety director with Center for Science in the Public Interest, said the USDA examined 38 turkey plants and found 22 plants with contamination rates below 11%. The industry average was 13%.

"While some plants are doing an excellent job at eliminating salmonella from their products, others are having much less success," DeWaal said.

ConAgra said it has taken steps to improve food safety at the Colorado plant, including enhanced sanitation on turkey farms and additional washing of birds during slaughtering.

Julie DeYoung, company spokeswoman, said industry testing in the last two months found less than 20% of the plant's turkey products had salmonella.

TAINTED TURKEYS

The USDA found 32% of turkeys produced at Cargill's Plantation Foods plant in Waco, Texas, were tainted with the bacteria. But another Cargill plant tested by the USDA averaged less than 2% for salmonella.

Cargill said the company has invested millions of dollars in new equipment at the plant, which it acquired in 1998, to reduce the presence of salmonella.

"We've identified improving our salmonella levels as an opportunity and we invested significant capital to address it," said Cargill spokesman Mark Klein.

The company said it expects much lower incidence of salmonella contamination in the products this year.

US consumer groups have been pushing the government to enforce federal food safety regulations more stringently. They also want the USDA to publish all its detailed salmonella test data on the Internet so consumers can choose to buy turkey, ground beef or chicken from the cleanest plants.

The USDA data showed three other turkey plants had salmonella contamination above 25%.

The plants were Bil Mar Foods plant in Storm Lake, Iowa with 32%; Diestel Turkey Ranch plant in Chinese Camp, California, with 30%; and Farbest Foods, Huntington, Indiana, with 28%.

"USDA should continue conducting tests and if the plants do not start meeting industry standards they should be shut down," DeWaal said.

COOK PROPERLY

A US turkey industry group said consumers are unlikely to be hurt by salmonella contamination because turkey is always cooked before eating. Proper cooking destroys the salmonella bacteria.

"The thing about turkey is you don't eat it raw like beef, so (salmonella) is not an issue for turkey," said Sherrie Rosenblatt, spokeswoman for the National Turkey Federation.

USDA said it was studying whether to adopt performance standards for turkey plants. The department was awaiting findings from an industry study by the National Academy of Sciences.

In an important beef contamination case, an appeals court in December found the USDA overstepped its authority by suspending federal inspection at a Supreme Beef Processors Inc. plant in Texas after it failed a series of salmonella tests.

The USDA said it would continue testing for salmonella at beef processing plants even though it could not close them based solely on test results.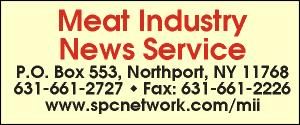 E-mail: sflanagan@sprintmail.com