020120 Farmland Reports First Quarter 2002 Profits
January 15, 2002

Kansas City, MO - Farmland Industries announced its financial results for the first quarter of fiscal 2002 (Sept. 1 through Nov. 30, 2001). The cooperative reported earnings of $3.2 million for the period, on sales of $2.3 billion.

Farmland President and CEO Bob Honse said, "The success of the Farmland® food brand is evident in our financial results. While we continue to manage through adverse market conditions in the nitrogen fertilizer business, our Refrigerated Foods businesses had a significantly improved quarter, showing gains in both sales and income."

Earnings in the Refrigerated Foods and Petroleum businesses increased significantly from the year prior, and the company continued to reduce corporate expenses. Strong refining margins in September, combined with a one- time gain resulting from the sale of its ownership interest in Country Energy, a petroleum marketing joint venture, fueled the increase in the Petroleum segment. Significant losses in the Crop Production businesses, primarily due to a relatively high cost of inventory in comparison to lower selling prices for nitrogen fertilizer, led to a loss in that segment.

Farmland's first quarter 2002 net income of $3.2 million was down from $6.7 million in the first quarter of the year prior, primarily due to results in the Crop Production segment. As Farmland manages through adverse market conditions in nitrogen fertilizer operations, the company placed its Lawrence, Kan., nitrogen fertilizer plant on standby operational status last week. Farmland's Pollock, La., plant also remains idle.

Honse said the company is optimistic about fertilizer market conditions and looks for improvements industrywide. "Going into the second quarter, inventory costs have been reduced and the cost of production should continue to reflect lower natural gas prices. We also expect additional acres of feed grain production to drive increased demand in the spring season. China's accession to the WTO, which Farmland worked hard to achieve, will increase demand for phosphate fertilizers."

Farmland's first quarter sales of $2.3 billion were down from $3.0 billion in the first quarter of 2001, as the company's grain sales were transferred to ADM/Farmland Inc., a grain marketing partnership formed last year with Archer Daniels Midland Co. Also contributing to the sales decline were reduced sales in Tradigrain, the company's international grain trading subsidiary.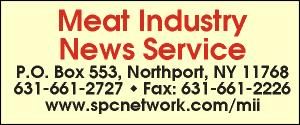 E-mail: sflanagan@sprintmail.com