020108 Law Would Limit Aid to Factory Farms
January 7, 2002

Washington - Environmental groups are rallying behind legislation that would limit federal aid to large-scale livestock operations to store and treat animal waste.

They say the amendment is necessary to prevent increasing consolidation in the livestock industry - especially hog operations - arguing that the aid allows "factory farms" to expand and drive out smaller competitors.

"This money shouldn't be hijacked for corporate welfare," said Sen. Paul Wellstone, D-Minn., who is sponsoring the amendment to the farm bill.

But the pork industry says the legislation would squeeze out mid-size farmers who will be facing increased environmental costs in the coming years.

At issue is the Environmental Quality Incentives Program, which subsidizes the cost of manure control and other conservation projects. Under current law, livestock with more than 1,000 "animal units" - roughly 2,500 hogs - are ineligible for such aid.

But Wellstone's amendment, which the Senate will take up when it returns later this month, would reinstate it for new or expanding livestock operations over 1,000 animal units. The Senate Agriculture Committee chairman, Tom Harkin, D-Iowa, supports the amendment.

Steven Cohen, a spokesman for the National Pork Producers Council, argued that Wellstone's legislation would actually accelerate concentration in the hog industry. New regulations coming from the Environmental Protection Agency will increase the cost of doing business, and mid-size farms won't be able to afford them without expanding, he said.

"Companies like Smithfield will be able to afford this technology," he said. "But mid-sized ones won't be able to afford it without some kind of public investment."

Lynn Harrison, who farms a few thousand hogs on his farm in Elk Mound, Wis., 80 miles east of the Twin Cities, worries that will happen to him.

"I'm eligible now, but if I wanted to expand, I wouldn't be eligible," said Harrison, whose family has been in the hog farming business since 1913.

Wellstone said his amendment is a modest one that won't drive anyone out of business. In addition to preserving aid for those operations that are already in place and don't expand, the legislation also doubles the annual limit from $10,000 to $20,000.

"Of course there will be some environmental standards that will have to be met because people in rural areas hate these operations," said Wellstone, who predicted a close vote on the measure.

Large hog farms have come under attack in recent years, with neighbors complaining about the smell of animal waste and environmentalists citing the danger to water sources.

Don Lipton, a spokesman for the American Farm Bureau Federation, the nation's largest agricultural group, said that was all the more reason to scrap Wellstone's amendment.

"If you're serious about environmental protection, then it stands to reason you would want the larger operations to be able to avail themselves of the environmental protections, and ensure that the problems associated with livestock operations are controlled," he said.

The National Farmers Union, which represents family farmers, supports the legislation, as do environmental organizations such as the League of Conservation Voters, Environmental Defense, the National Wildlife Federation and the Natural Resources Defense Council.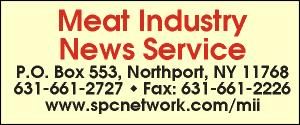 E-mail: sflanagan@sprintmail.com