011228 Democrats Look to Give USDA Power to Close Plants
December 24, 2001

Washington - Three Senate Democrats said they plan to propose legislation giving the U.S. Agriculture Department authority to shut down meat plants that have repeatedly failed government tests for disease-causing salmonella.

Senators Tom Harkin of Iowa, Dick Durbin of Illinois and Hillary Clinton of New York said they would offer the bill early next year.

The move comes as a result of a recent U.S. Court of Appeals ruling that found the USDA had overstepped its authority in suspending federal inspections at a Supreme Beef Processors Inc. plant in Texas after it failed a series of salmonella tests. Withdrawing government inspectors, who authorize the USDA approval stamp on meat products, effectively closes a U.S. meat plant.

"Our nation's government is made up of three branches and one of them -- the judiciary -- got it wrong in the Supreme Beef case when it comes to protecting public health and safety," Durbin told reporters at a news conference.

The bill would allow the USDA to close a meat plant solely based on salmonella tests.

Salmonella can cause vomiting, diarrhea and fever in healthy adults and can be fatal for elderly people or those with weak immune systems. About 600 Americans die from salmonella annually out of 1.4 million cases, according to federal health data.

Agriculture Secretary Ann Veneman sought to reassure consumers that the USDA would continue testing for salmonella despite the ruling.

Veneman stopped short of asking Congress for the authority to shut down the meat plants immediately. She said the USDA could still pull meat inspectors out of a plant, but would do so only after taking other steps.

Senate Democrats and consumer groups said the USDA's actions were not enough to ensure a safe meat supply.

"The secretary appears to be merely looking for ways to work around the court decision," Harkin said. "Sadly for consumers, it appears that USDA has ceded the fight for safer food to the industry."

The senators said they hoped the Bush administration would support the legislation.

Harkin pursued a similar bill earlier this year but was defeated on a 50-45 vote.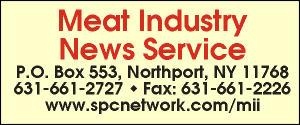 E-mail: sflanagan@sprintmail.com