011201 US to Subsidize Hog Farm Insurance
December 4, 2001

Washington - The government is offering subsidized insurance to livestock farms for the first time, in the form of policies that will protect hog producers from drops in income.

The policies will be offered on an experimental basis in Iowa, the nation's largest hog producing state, according to the Agriculture Department's Risk Management Agency. One type of coverage will protect against drops in hog prices. A second will be tied to fluctuations in hog prices and feed costs.

"This will be different for producers. This will give them an opportunity to give themselves a price floor," said Keith Collins, USDA's chief economist and chairman of the board that oversees the insurance system.

The policies were limited to Iowa, and the government subsidies will be kept relatively low to avoid stimulating production and driving down hog prices, Collins said. "Generally," he said, "the less risky you make enterprises the more production you get."

The government currently subsidizes $35 billion worth of insurance policies on grain, cotton and other crops.

Demand for the hog policies will be determined in large part by the premiums, said Steve Cohen, a spokesman for the National Pork Producers Council.

The policies will provide a way for farms to manage their risk other than by contracting for the sale of their animals, he said.

The insurance will be limited to small and medium-size farms that sell no more than 32,000 hogs a year. Sales of the policies will start next spring.

A survey of Iowa farmers indicated they would be willing to pay premiums of about $5.50 per hog, said Barry Cleveland, a spokesman for Iowa Agricultural Insurance Innovations, a joint venture that will sell the policies. They are tied to hog prices and feed costs.

He said he expects 20% of eligible producers to buy the insurance, which is expected to cost about $5 per animal. "We have come in on target what they said they would pay," he said.

USDA won't expand the insurance to other states or livestock until it has had time to see how the policies work in Iowa, Collins said.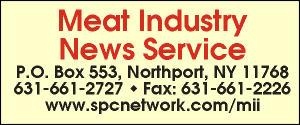 E-mail: sflanagan@sprintmail.com