011115 Zeigler Recalls Luncheon Meat
November 3, 2001

Selma, AL - R.L. Zeigler Co. Inc. is recalling about 189,000 pounds of luncheon meat that may be contaminated, federal food inspectors announced.

The federal Food Safety and Inspection Service said the meat may be contaminated with Listeria monocytogenes, which can cause high fever, severe headache, neck stiffness and nausea. It can also cause miscarriages and stillbirths and can be fatal.

Each package being recalled bears ``EST. 9156S'' inside the USDA seal of inspection. The potentially contaminated meats are described as ``pegboard lunch meats'' cut in a square shape. Not all of Ziegler's lunch meats that fit into that category are being recalled.

The food safety agency said Thursday it has received no reports of illnesses associated with the product being recalled.

These products, including Elm Hill, Frosty Morn, Lay's and Zeigler brands, were distributed to retail and wholesale companies in Alabama, Arkansas, Florida, Georgia, Illinois, Kentucky, Louisiana, Mississippi, Missouri, North Carolina, South Carolina, Tennessee and Virginia.

Any of the products on the recall list should be returned to the seller, the FSIS said.

Consumers with questions can contact the company at 1-800-392-6328, or call the USDA hotline at 1-800-535-4555.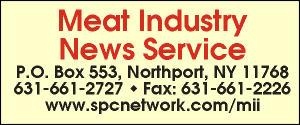 E-mail: sflanagan@sprintmail.com