011112 Wendy's Earnings Up 8% in Quarter
November 3, 2001

Dublin, OH - Wendy's International Inc.'s earnings rose 8% in the third quarter, driven by new restaurant openings and sales growth at its Wendy's hamburger chain and Tim Hortons coffee-and-doughnut chain.

The company said it earned $52 million, or 44 cents a share, in the quarter ended Sept. 30 compared with $49 million, or 41 cents a share, a year ago.

Sales increased 6% to $610 million from $578 million.

The results matched estimates of analysts surveyed by Thomson Financial/First Call.

The company said the slowing economy and higher beef costs lowered profits.

``Sales at Wendy's have improved since the tragic events of Sept. 11, but are still below trends we saw in the first half of the year,'' said Jack Schuessler, Wendy's chairman and chief executive.

The company earned $147.1 million, or $1.24 a share, in the first nine month of the year, up from $135.2 million, or $1.14 a share, a year ago. Sales rose to $1.78 billion from $1.66 billion.

Wendy's stock rose 62 cents to close at $26.92 a share in trading Thursday on the New York Stock Exchange.

Wendy's, the nation's third largest hamburger chain, has nearly 6,000 restaurants in the United States, Canada and other countries. Tim Hortons has more than 2,000 restaurants, with more than 1,900 in Canada.

The company opened 72 Wendy's and 42 Tim Hortons restaurants during the quarter.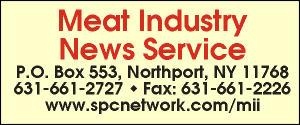 E-mail: sflanagan@sprintmail.com