011005 Sara Lee Increases Earnings
October 4, 2001

Sara Lee Corporation today announced revised earnings per share (EPS) guidance for its first quarter and full year for fiscal 2002 due to the adoption of new accounting rules concerning the amortization of goodwill and intangibles. The adoption of the new rules will increase net income by approximately $109 million for the full year and increase EPS by approximately $.13, evenly split during the year.

Sara Lee's acquisition of The Earthgrains Company in August 2001 is expected to result in $.03 of EPS dilution in fiscal 2002. This guidance has not changed and reflects management's best assessment of the financial impact of the acquisition at this time.

Including the effects of the new accounting rules and dilution from the acquisition of Earthgrains, management currently expects that EPS for fiscal 2002 will be in the range of $1.35 to $1.45. For the first quarter, EPS are expected to be in the range of $.24 to $.27. Management's revised guidance is a reflection of changes in accounting standards, not a change in operational outlook.

In August, Sara Lee management indicated that EPS for the full year would fall in the range of $1.25 to $1.35 and $.21 to $.24 for the first fiscal quarter, based on old accounting standards for amortizing goodwill and intangibles and before dilution from Earthgrains. At that time, the company estimated that the new accounting rules would result in an $.08 EPS gain for fiscal 2002.

As a point of comparison, Sara Lee estimates that fiscal 2001 EPS would have been $1.49 under the new rules relating to the amortization of goodwill and intangibles compared to $1.36 reported for 2001, and the first fiscal quarter would have been $.32 compared to $.29 reported for the first quarter 2001.

C. Steven McMillan, Sara Lee's president and chief executive officer, will speak with investors about the outlook for the company today at 7:30 a.m. (CDT). His remarks will be broadcast live via the Internet and can be accessed at www.saralee.com. For people who are unable to listen to the live webcast, it will be archived in the Investor Relations section of the Sara Lee corporate Web site for 10 business days.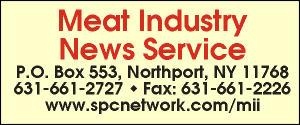 E-mail: sflanagan@sprintmail.com