010850 China's Fast Food Volume $24 Billion In 2000
August 31, 2001

Beijing - China's fast food industry had turnover of more than 200 billion yuan ($24 billion) last year as Western giants and home-grown competitors fought for market share, the official China Daily newspaper said.

The fast food market has grown more than 20 percent annually over the last decade, it said, quoting a survey by the State Administration for Industry and Commerce.

Kentucky Fried Chicken, owned by Tricon Global Restaurants, had a 2.0 billion yuan ($242 million) share of the market last year, the newspaper said.

It gave no figure for McDonald's Corp, which has around 300 restaurants in China.

China also has a number of local fast food chains. The biggest, Malan Noodle Fast Food Chain Store Co Ltd, had more than $40 million in revenue last year, company officials say.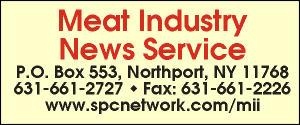 E-mail: sflanagan@sprintmail.com