010841 Tyson Expects to Close IBP Deal September 28
August 31, 2001

Springdale, AR - Poultry giant Tyson Foods Inc. said that it expects to complete acquisition of beef and pork processor IBP Inc. on Sept. 28 to create the world's largest meat company with annual revenue of about $25.7 billion.

"I'm encouraged by our combined operating performance over the past few weeks," Chairman and Chief Executive John Tyson said in a statement, adding that plans to combine the two companies are on schedule.

The company previously said that it expected the deal to close within 60 days after the final paperwork had been filed earlier in August.

Tyson tried to back out of the $2.9 billion deal in March, but the two companies came to a new agreement in June after a drawn out legal battle led to a judicially ordered merger.

The U.S. Securities and Exchange Commission has approved a proxy statement/prospectus for the merger of IBP into a wholly owned Tyson unit, the company said. A required IBP shareholder meeting is set for Sept. 28 at IBP headquarters in Dakota Dunes, South Dakota, to approve the merger, though Tyson already controls a majority of the stock.

Tyson bought 50.1 percent of the outstanding IBP shares in a cash tender offer completed earlier in August. The remaining IBP shares will be converted into Tyson shares based on the average of Tyson's closing stock price for the 15 trading days beginning on Aug 31.

If Tyson shares are trading between $12.60 and $15.40, each IBP share will be converted into $30 of Tyson stock. If Tyson shares are below that collar, each IBP share will be converted into 2.381 Tyson shares and if Tyson stock is above the collar, each IBP share will be converted into 1.948 Tyson shares.

Shares of Tyson rose 5 cents to $10.26 Monday on the New York Stock Exchange. The shares have fallen nearly 20 percent since the start of the year.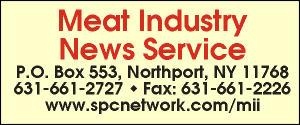 E-mail: sflanagan@sprintmail.com