010836 Tyson A Step Closer to Completing IBP Buy
August 11, 2001

Springdale, AR - Poultry giant Tyson Foods Inc. said that 97.4% of the shares of beef and pork processor IBP Inc. are tendered and not withdrawn, paving the way for the creation of the world's largest meat company.

Springdale, Arkansas-based Tyson, which is in the process of buying IBP for $2.9 billion, reported that 105.3 million shares of IBP's common stock had been tendered and not withdrawn by the expiration date of August 3.

Tyson will buy 53.6 million of the tendered shares. After the purchase, Tyson and a subsidiary will own about 50.1% of IBP's outstanding shares.

The companies first announced a deal in January after Tyson outdueled Smithfield Foods Inc. for Dakota Dunes, South Dakota-based IBP. However, Tyson tried to back out in March, citing financial irregularities at an IBP subsidiary.

A Delaware judge forced Tyson and IBP back together and the companies announced a new deal in June. IBP will be a wholly owned subsidiary of Tyson.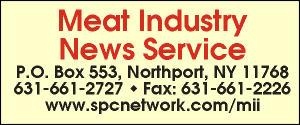 E-mail: sflanagan@sprintmail.com