010803 Tyson-IBP Deal to Close Within 2 Months
August 2, 2001

Springdale, AR - Tyson Foods Inc. said that it expects to close its acquisition of pork and beef processor IBP Inc. within two months of the deadline of its cash tender offer expected August 3.

In Late June, Tyson agreed to purchase IBP, the largest U.S. beef processor, for about $2.7 billion in cash and stock, below a prior bid. The agreement came after a Delaware judge forced the two companies to renegotiate a deal that Tyson abandoned in March.

Tyson also forecast fourth-quarter earnings per share of 8 cents to 12 cents a share, excluding results from IBP, during a conference call to discuss a decline in third-quarter results.

Analysts' fourth-quarter estimates ranged from 8 cents per share to 20 cents with a consensus at 15 cents, according to market research firm Thomson Financial/First Call. The projections exclude anticipated results from IBP. Tyson earned 8 cents a share in the year-ago fourth quarter.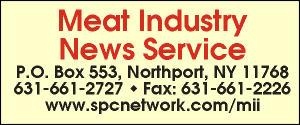 E-mail: sflanagan@sprintmail.com