010733 USDA Proposal for Labeling Criticized
July 27, 2001

New York - A consumer advocacy group has assailed a United States Department of Agriculture (USDA) proposal that would allow supermarkets to choose between displaying meat and poultry nutrition information on posters or brochures inside stores or on individual packaging.

The reason supermarkets are given the choice is because "consumers have reasonable expectations as to the nutrient content of these products," according to the USDA, which issued the proposal in January.

But officials at the Center for Science in the Public Interest (CSPI), a Washington, DC-based nonprofit group, disagree.

"It is inexcusable that the USDA has decided not to require packages of steaks, chops, roast and other fresh meat and poultry to have nutrition labels," Bonnie Liebman, CSPI director of nutrition, said. "Labels are the only way for consumers to know how much saturated fat, calories and other nutrients are in fresh meat."

The American Meat Institute (AMI), however, is at odds with CSPI.

Citing concerns about the cost and accuracy of individual labels, the meat experts say they favor having nutrition information displayed on posters and brochures, according to an AMI statement.

"Because there are more than 3,300 cuts of beef alone (when you differentiate among products of different grades and trim levels) sold at retail, it would be extremely difficult to label each product from every species with nutrition information," according to the meat industry experts.

On the other hand, the USDA proposal requires nutrition labels for ground beef, pork, turkey or other ground or chopped products. But Liebman fears that most consumers will not bother to check the labels of these products, especially if the meats are marked as 80% or 85% lean.

Under the USDA proposal, the meat industry will be allowed to use "percent lean" claims for products that do not meet required standards for labeling as low fat. "Many ground and chopped products have difficulty meeting the criteria for 'low fat,"' according to the USDA. For foods to be considered low fat, they must contain no more than 3 grams of fat per serving.

Many consumers may be misled by the term lean, however, thinking that it means low fat, Liebman asserts.

For example, a product labeled 85% lean contains 15% fat by weight, which is far from being low fat, according to Liebman. In fact, a quarter pound of 85% lean hamburger meat may contain as many as 15 grams of fat, she said.

AMI, however, supports the use of percent fat and percent lean labels, maintaining that consumers understand such labeling.

The USDA has received almost 5,000 comments about the proposal, according to spokesperson Carol Blake of the USDA's Food Safety and Inspection Service. She said that all of the comments will be reviewed before a final ruling is made.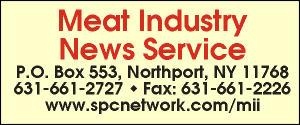 E-mail: sflanagan@sprintmail.com