010369 Restaurants May See Baby Back Ribs Shortage
March 24, 2001

Washington - Some restaurants could run out of their popular baby back ribs - a product of Denmark - if the temporary U.S. ban on meat imports from Europe continues for very long.

The Danish pork product, considered by aficionados to be more tender than its U.S. counterpart, is popular with barbecue-loving Americans. It was the major victim of the ban on European Union meat imposed last week after an outbreak of foot-and-mouth disease spread from Britain to France.

U.S. restaurants have about a four- to six-week supply of the Danish ribs on hand, Steven Grover, a vice president of the National Restaurant Association, said Tuesday.

The ban "could create shortages for both restaurants and consumers. They're a quite popular item," he said.

Agriculture Secretary Ann Veneman said the import ban was "under constant evaluation."

"We're going to follow all the protocols and assess risk. It's all based on risk assessment and threat to our own agriculture," she said.

The restaurant association endorsed the import ban but has urged USDA to make Denmark its first priority as the department considers lifting the suspension for specific countries.

One national restaurant chain, Outback Steakhouse, has an eight-week supply of Danish ribs on hand and is considering switching to a U.S. source, a spokesman said. The Bennigan's chain, which features "Oh, Baby" Back Ribs on its menu, won't be affected because the product is American grown.

Danish officials don't think the ban is justified and have been meeting almost daily with Agriculture Department officials since it was imposed.

"What we have been telling them is that it's quite unfair what has happened to Denmark," said Jorgen Kristensen, minister-counselor for agriculture at the Danish embassy. "In continental Europe there has been one single case of foot- and-mouth disease, and that is a thousand miles away in France."

Foot-and-mouth disease last occurred in Denmark in the early 1980s. Specialists determined birds brought in the microbe from what was then East Germany.

The United States imports about $300 million worth of meat from the European Union, two-thirds of that Danish pork. Ribs account for 60% of the Danish shipments. Another 30% are processed hams, which aren't kept out by the ban.

Baby back ribs were developed by the Danish livestock industry about 20 years ago as producers sought a market for what was then considered scrap. They found eager buyers in the United States, and now U.S. farmers have developed a similar product. About half the baby back ribs sold in the United States are from Danish farms.

Baby back ribs typically are four inches in length, about two inches shorter than the standard pork rib, because the hogs are smaller when slaughtered.

Foot-and-mouth disease is harmless to humans and seldom is fatal to livestock. Farmers dread the virus because it spreads so quickly, however, and livestock are immediately destroyed to contain it. The livestock disease was identified a month ago in Britain, where more than 350 cases have been confirmed. The outbreak shows no sign of tapering off.

The Bush administration justified extending the import ban to all 15 members of the European Union by citing the extensive free trade among the countries. EU officials say extensive border controls between the countries prevent the disease from spreading.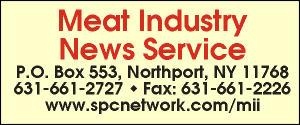 E-mail: sflanagan@sprintmail.com