010251 Olymel buys Premium Brands pork division
February 27, 2001

Montreal - Premium Brands Inc. has agreed to sell its fresh pork division to Olymel, a subsidiary of Cooperative federee de Quebec, for C$90 million ($59 million).

Vancouver-based Premium Brands and Olymel also agreed to a seven- year deal for the supply of raw materials to Premium Brands' processing operations. The two companies are in talks on several other initiatives, Premium said.

The fresh pork division is based in Red Deer, Alberta, and includes a modern hog facility that can process up to 16,000 hogs a day. The plant is currently running at 6,000 hogs a day and generates about C$240 million in annual sales.

Olymel, based in St-Hyacinthe, Quebec, is Canada's largest fresh pork exporter and poultry processor and its second-largest hog processor. Olymel employs more than 7,000 people in 16 plants in Quebec and Ontario and had sales of C$1.3 billion last year.

The parent Cooperative federee is owned by 30,000 Quebec producers.

Olymel said the acquisition confirms its leading position in the export of fresh and processed meats. The facility will help improve the company's competitive position in Canada and the United States, and markets in Japan and the Pacific Rim, Olymel said.

Shares of Premium Brands were halted briefly on the Toronto Stock Exchange on Tuesday morning, but jumped 60 Canadian cents to C$17.95 on the resumption of trading. The stock has ranged from a low of C$15.25 to a high of C$23.75 over the past 52 weeks.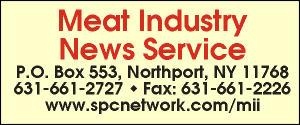 E-mail: sflanagan@sprintmail.com