001142 Study on NC Hog Industry Waste Problems
November 24, 2000

Raleigh, NC - Companies that buy hogs from farmers contribute to the problem of foul-smelling waste lagoons and should not shirk helping to finance alternate technology to handle hog wastes, an environmental group contends.

Environmental Defense studied alternate technology and pork company finances before drawing the conclusion that the processing industry can afford the expense. The pork industry questioned the findings as premature.

"The question is always asked, `Is this affordable?' Since no one has gotten beyond the rhetoric of cost, we're trying to provide an answer," said Dan Whittle, an attorney with Environmental Defense.

On major hog farms, waste from hogs falls into channels in the barn floor, then are mixed with water and piped to ponds called lagoons. Natural processes break down the waste, and the liquid is drawn off and applied to fields as fertilizer.

The average cost for changing from lagoons to new technology would be 2 cents to 3 cents per pound of pork, said Kathy Cochran, an economist with the group.

Critics of the lagoon system complain of the smell that permeates nearby areas and of potential dangers to the environment when lagoons burst. The most notorious case in North Carolina was the breach of a lagoon in 1995 at an Onslow County farm in the state's eastern part and sent 25 million gallons of feces, urine and water into the New River.

North Carolina State University is studying feasible alternatives to lagoons to handle the 50,000 tons of waste generated every day by the state's 10 million hogs. Smithfield Foods donated $15 million to the research and has offered to help its farmers install new technology once it is identified.

Beth Ann Mumford of the North Carolina Pork Council said the Environmental Defense study overlooks efforts already under way to deal with the problem.

Agreements between the state and Smithfield and other producers "pretty much recognize that we don't know whether there are cost-effective and viable alternatives out there," she said. "Any conversation now as to who should pay for what is irrelevant until we know what we're looking at."

Whittle said the Environmental Defense study showed companies can afford to take a larger role in paying for the conversion from lagoons to other waste disposal methods. He said the study showed the $2 billion pork industry is robust even when pork prices are down.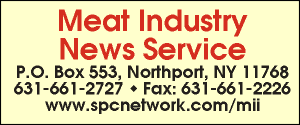 E-mail: sflanagan@sprintmail.com