000918 Nation Of Islam Backs Sharpton In Burger King Row
September 18, 2000

Washington - The Nation of Islam threw its support behind a prominent black community leader in a dispute between Burger King Corp., the world's second largest fast food chain, over alleged discrimination.

The public support for the Reverend Al Sharpton, president of the National Action Network, came as Sharpton has threatened to call for a nationwide boycott of the restaurant chain over alleged reneging on promises to a black entrepreneur.

"Burger King will not get away with this," said Leonard Farrakhan Muhammad, Nation of Islam leader Louis Farrakhan's chief of staff, at a news conference with Sharpton outside a downtown Burger King.

"If they don't stop this problem we're going to urge millions of people across this country to march away from Burger King," Muhammad said.

Sharpton says he will decide whether to call the boycott after a meeting scheduled for Tuesday in Miami with officials of Burger King, owned by the British-based beverages and food giant Diageo Plc.

This will be the first time that Farrakhan has entered a fight like this, Muhammad said, adding the head of the 200,000 strong movement was concerned about the chain's treatment of the black businessman, La-Van Hawkins.

Hawkins says Burger King broke a 1996 promise to let him operate restaurants in economically disadvantaged federal empowerment zones across a number of major U.S. cities. He sued the company in April for $1.9 billion.

Burger King then sued Hawkins, saying he owed it several million dollars in royalties and loans.

Sharpton criticised what he said was the tiny proportion of advertising business given to black media outlets compared to revenues the company earned from black patrons and said the firm should give black investment bankers a fair shot at handling its planned initial public offering.

Burger King has countered Sharpton's previous criticism that until recently the chain had no signed contract with an African-American ad agency by saying two of its three longstanding advertising contracts are minority-owned.

Sharpton said he was seeking a reasonable commitment and timetable for implementation from Burger King, but did not elaborate.

It also remained unclear exactly how much support the boycott would have. Sharpton said other religious, civil rights and consumer groups were ready to shun Burger King's famous "Whopper" sandwiches but did not name particular groups.

Minority Burger King franchisees said earlier this week that a boycott would hurt minority groups more than it would help them.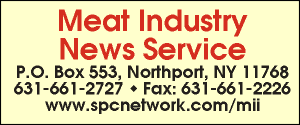 E-mail: sflanagan@sprintmail.com