051225 Feds Close Fresh Farms Plant in VT
December 28, 2005

Rutland , VT - Federal inspectors have shut down the largest slaughterhouse in the state because of alleged food safety violations. But some question whether the action against Fresh Farms Beef in Rutland is more because of a paperwork snafu than an actual health risk.

Fresh Farms Beef Inc. was issued a notice of suspension this month for alleged food inspection violations at the company's slaughterhouse on Park Street, Amanda Eamich, a spokeswoman for the Food Safety Inspection Service of the U.S. Department of Agriculture, said Tuesday.

Some meat producers had to find alternative processors.

"The facility received a notice of suspension Dec. 17 from our agency because of multiple violations in their food safety systems, which led the agency to be concerned about adulterated product possibly reaching consumers," Eamich said from the USDA offices in Washington.

The Food Safety Inspection Service handles inspections of meat, poultry and egg products. Because Fresh Farms Beef ships some of its meat out of state, the slaughterhouse falls under federal jurisdiction.

"It's the establishment's responsibility to maintain their facility," Eamich said. "It's our regulatory responsibility to make sure those measures are being upheld."

Eamich said the violations went beyond a paperwork problem but declined to provide details, referring specific questions to the company.

She said there are 21 federally inspected processing facilities of various kinds in Vermont — including six slaughterhouses. She said the last suspension of a Vermont facility was last month.

That facility, which she did not identify by name or type, has since reopened.

Eamich said USDA inspectors and company officials worked over the holiday weekend in an attempt to correct the violations so Fresh Farms could reopen.

"The facility remitted a response that we are in the process of reviewing," she said.

Fresh Farms Beef owner Nick Greeno said Tuesday that, "We are doing everything in our power to comply with what they want."

He declined to offer specifics about the alleged violations. Greeno did say that in the nine years he's been in business he has never before been shut down.

He said that the plant slaughters an average of 200 animals a week, which makes it the largest of its kind in the state.

The office of Rep. Bernard Sanders, I-Vt., has been involved in helping to get the slaughterhouse back in operation after getting calls from farmers who had no place to ship their animals.

"My understanding, and the general feeling, is that he runs a good operation and has done so for a while," Sanders said Tuesday.

Sanders said the problem may in fact be more of a recordkeeping issue than an actual food safety issue.

He said the shutdown has hurt farmers who lost business during the critical holiday period.

"It would seem to me, if it's just a paperwork issue, than what you want to do is reopen that plant and get the paperwork in as soon as you can but not shut down a plant that is impacting Vermont farmers and a guy who needs the business," Sanders said.

Sanders' spokeswoman Jenny Nelson said that problem began during the week of Dec. 12 when meat processed at the Rutland plant was shipped to a location that wasn't listed on the plant's USDA-approved plan, known as a Hazard Analysis Critical Control Point, or HACCP plan.

Steve Kerr, Vermont's secretary of agriculture, said it's rare for a Vermont slaughterhouse to be closed and it's usually because of concerns over bacteria during the processing of the meat.

Kerr said the problem this time may be as simple as a paperwork glitch or something more serious, but he thought it odd it hadn't been resolved.

"I don't know why it would take so bloody long," he said.

Vermont Quality Meats, a co-op that relies on the Rutland slaughterhouse, has been able to find replacement suppliers in the state on an interim basis.

"It was a hustle but we managed to get through it," said Ted Izzi, who serves as president of the 30-member co-op's board of directors.

The co-op's members primarily sell their beef, chicken, veal, lamb and goat's meat to high-end restaurants in New York and Boston.

Izzi said the co-op has never had a problem with Fresh Farm Beef. He said he had no knowledge of the alleged violations but expressed confidence the problems were only temporary.

Randolph farmer Stewart Skrill, who sells his lambs through Vermont Quality Meat, said the co-op notified him just before the holiday that he may have to make other arrangements because of the closure.

Skrill said he was able to sell his seven head to a butcher in the Bronx, N.Y., who made arrangements to have the lambs picked up for slaughter.

"It just so happens a lot of producers are geared to market like Christmas and New Year's and now the price will fall," he said.

Like Sanders and Kerr, he questioned whether the problems the USDA had with Fresh Farms was more of a paperwork problem than a real issue of food safety.

"There are so few slaughterhouses, who would jeopardize what they're doing?" he said, adding that the USDA's new inspection procedures are very stringent.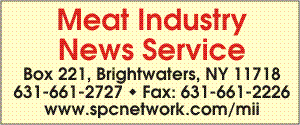 E-mail: sflanagan@sprintmail.com