051224 NYC Meatpacking District: Not Anymore
December 25, 2005

Soon the meatpacking district will exist in name only, the butcheries and sellers of huge slabs of beef and pork replaced by boutiques, nightclubs and meat markets of another kind. The latest of the old-guard businesses poised to depart is Western Beef, the discount grocer and meat wholesaler on West 14th Street, which will close its doors next summer.

The landlord has decided to sell the four-story orange-brick building to a developer, creating much-coveted commercial space but leaving low-income residents of the nearby Robert Fulton Houses, among others, wondering where they will do their shopping.

A meat market has sat at the northwest corner of 14th Street and Ninth Avenue for 60 years. Western Beef, perhaps best known among grocery aficionados for its wonderfully odd logo of a cactus wearing a cowboy hat, has occupied the site for the past 20 years. On occasion, the store occupies the sidewalk too, stacking cans of green beans and bags of Fiesta Mix on cartons outside, and lending the place the air of a Middle Eastern bazaar crossed with a bodega.

The business model for Western Beef, which started in College Point, Queens, and operates 18 other stores in the city, is based on selling low-cost groceries in neighborhoods where other chains were reluctant to locate. The meatpacking district was once one of those places, a derelict area clogged by trucks in the daytime and prostitutes at night. "As soon as sundown hit, you probably didn't want to be there," said Richard Fraschilla, director of operations for Western Beef. Now, his workers unload supply trucks across from a fashion boutique.

The building, which is a designated landmark as part of the Gansevoort Market Historic District, has been bought by Taconic Investment Partners and will remain a commercial space, albeit one in keeping with the neighborhood's changing scenery. "We're going to restore the exterior and turn it into a gorgeous little space," said Ari Shalam, the director of acquisitions for Taconic.

With the departure of Western Beef, which provides an alternative to higher-priced stores like D'Agostino, residents will have to go elsewhere for low-cost groceries.

"The Chelsea Market and Balducci's are great, but they're not for the average person," said a woman who was shopping at Western Beef last week and gave her name only as Jane. She peered into a cardboard box filled with bottles of apple juice. "This will be a big loss.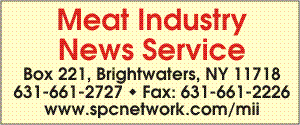 E-mail: sflanagan@sprintmail.com