051215 US Ready To Lift Ban On Japanese Beef
December 10, 2005

Washington - The United States is preparing to lift a ban on Japanese beef in step with the imminent resumption of US beef exports to Japan, US Agriculture Secretary Mike Johanns said.

"We are ready to flip the switch and bring Kobe beef into our marketplace," he told reporters, referring to the luxury marbled meat which is Japan's most famous type of beef.

"That can happen really any day, we are that far along in the process. We've gone through our rule- making, our risk analysis, our scientific approach, and we're ready to bring Kobe beef in," he said.

The United States banned Japanese beef imports in 2001 after Japan reported its first case of bovine spongiform encephalopathy ( BSE), or mad cow disease, in its cattle.

In December 2003, Japan in turn banned US beef imports over a case of BSE in the United States.

But while Kobe beef remains a niche market, US beef exports to Japan exceeded 1.7 billion dollars in 2002, making Japan the single biggest overseas market for US beef before the ban.

Japan's food safety panel Thursday cleared the way to lifting the two-year-old ban on US beef imports on the basis of scientific evidence that meat from cattle aged up to 20 months is safe.

Japan's government is likely to announce final approval as early as Monday to allow imports of beef from US as well as Canadian cattle, which was also subject to a BSE-linked ban, officials said.

But surveys suggest that many Japanese consumers remain highly suspicious of US beef. A survey by Kyodo News this week said 75.2 percent of Japanese surveyed would be unwilling to eat the beef.

Johanns insisted there was nothing to fear.

"I can assure the Japanese consumer that beyond a shadow of a doubt, US beef is safe," he said, adding: "We're very, very encouraged by what's happening in Japan.

"We will be ready to comply with the regulations and rules that we have worked through with Japan on this issue. I've a smile on my face."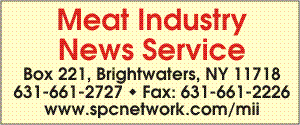 E-mail: sflanagan@sprintmail.com