051206 Chef Writes Healthy Beef Cookbook
December 10, 2005

Billings, MT - Dallas chef Richard Chamberlain wasn't looking to write a cookbook out of vanity. What he did want was to write a cookbook that people will use.

"It is for everyday people to enhance their lives," he said. "It is not complicated."

And he maintained the parameters imposed by the U.S. beef industry: That lean beef can be healthy as well as taste good.

Chamberlain was visiting Billings Friday as part of the joint convention of the Montana Stockgrowers Association and Montana Grain Growers Association.

The collaborative effort to produce "the healthy beef cookbook" took two and half years of testing and tasting.

For openers, one might try Italian beef pot roast.

Chamberlain's Steak and Chop House in Dallas is his center of operations nowadays.

But, it was as a youth in south Texas at the family ranch that he first considered cooking as a way of life. Chamberlain was 16 when he started watching the Galloping Gourmet - Australian Graham Kerr - create great meals on television.

"He always had that glass a wine while he was cooking," Chamberlain remembered.

He recalls Kerr turning out a cheese souffle that split apart. With aplomb, Kerr recovered well by admitting "It didn't work, but you've got to taste it!"

"Chefs are flavor experts," Chamberlain said, and they are used to adding a dash of this and a pinch of that to an entree to enhance the taste. He prefers fresh herbs. A starter garden in his window sill includes basil, thyme and chives.

But in the test kitchens, such behavior is not allowed. The recipe shall be followed.

Once he was enticed by the National Cattlemen's Beef Association to do the book project, he learned there was a catch.

Every recipe was required to be fewer than 400 calories per serving, fewer than 15 grams of fat and include fewer than 10 ingredients.

"I am not a dietician," he said, "I was used to adjusting the taste in the kitchen. These were tough parameters."

There was another dictum to obey: "The word chicken would appear nowhere in the cook book."

In preparing a recipe for risotto, an Italian rice dish, the broth recipe he used called for chicken stock. When told he would need a substitute, he asked "why would I?"

Because this book is about beef.

"That was a challenge for me, but it was an educational process," he said.

Chamberlain became involved in the project through the American Heart Association chapter in Dallas. There was a history of heart disease in his family and he was interested in giving back to his community.

The lean beef cookbook was a perfect answer, he said. It was not for ego or financial reasons, but a way to help.

The 280-page book has more than 130 recipes for using beef that meet the criteria set by its publishers. It contains preparation and cooking tips and the nutrition information per serving is included for each one.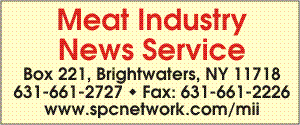 E-mail: sflanagan@sprintmail.com