051007 McDonald's Earnings Fall 6% In 3rd Quarter
October 21, 2005

Hamburger giant McDonald's suffered a 6 percent decline in profits in the third quarter, as the company faced rising beef and labor costs, as well as tough comparisons with the same quarter last year.

Profits at the Oak Brook-based company slipped to $735 million, or 58 cents a share, from $778 million, or 61 cents a share, a year ago. A tax gain boosted McDonald's third-quarter performance last year.

Investors backed away from the stock Thursday. McDonald's shares fell $1.29, or nearly four percent, to close at $32.40. The shares have inched up 1 percent this year.

Linda Bannister, an analyst at Edward Jones, said beef prices' impact on margins was "disappointing," and said McDonald's business in Britain "doesn't seem to be turning around yet."

Still, she said, "all in all, I thought it was a decent quarter."

Worldwide, McDonald's racked up $5.33 billion in sales, an 8 percent gain. Same-store sales, which measure sales at restaurants open more than a year, increased 3.7 percent in the U.S, and 5.1 percent in Europe.

The sales figures show McDonald's is continuing to grow its business, though at a slower rate than it achieved earlier on during its two-year turnaround. Meanwhile, European sales are improving.

McDonald's is trying to continue its turnaround by spending money to renovate older restaurants, expanding the number of outlets open 24 hours, and adding new menu items.

"In the U.S., our sales momentum continued despite strong prior-year comparisons. Our results reflect the effectiveness of our 'better, not just bigger' strategy," Chief Executive Jim Skinner said.

McDonald's has more than 30,000 restaurants worldwide. As of June, some 4,000 U.S. restaurants are open 24 hours. The company has resorted to offering temporary rent discounts to franchisees who agree to keep restaurants open around-the-clock.

Though longer hours help sales, they also add to labor costs, which hurt third-quarter profits.

Meanwhile, beef costs increased 10 percent in the U.S. and 17 percent in Europe.

The company will spend $1.7 billion this year on capital improvements.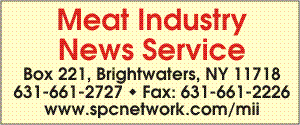 E-mail: sflanagan@sprintmail.com