051006 National Beef Ambassadors to Compete
October 22, 2005

Centennial, CO - The National Beef Ambassador Competition is slated for November 3-5 in Austin, Texas, at the Hilton Austin Airport Hotel. Students from 25 states will compete for over $5,700 in cash and scholarship awards.

The National Beef Ambassador Program provides leadership training for the youth beef ambassadors, who advance the interests of the beef industry through promotion and peer education. The program is funded in part by America's Beef Producers through the Beef Checkoff Program and is administered by American National CattleWomen, Inc. (ANCW) on behalf of the Cattlemen's Beef Board.

Competition is based on the contestants' ability to write and deliver speeches about various aspects of the beef industry such as beef nutrition and quality, and each contestant participates in an interview process. Contestants and their guests will have an opportunity to tour the Texas Beef Council and visit downtown Austin.

Students selected as National Beef Ambassadors participate in industry events throughout the year, further strengthening their leadership, communication skills, and helping to build demand for beef.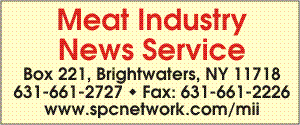 E-mail: sflanagan@sprintmail.com