051004 Canadian Meat Companies Merge
October 19, 2005

Canadian companies Supraliment, Meat Division of Groupe Brochu, and Olymel s.e.c., a subsidiary of La Coop fédérée, have announced that they have signed a partnership agreement.

The deal will give the green light to merging and integrating all of their assets and operations in the slaughtering, cutting, boning, processing and marketing of pork and poultry meats.

The new Quebec-owned company will then become a leading processor at both the national and international levels.

The project has been approved by the shareholders of Olymel - La Coop fédérée and SGF - those of Groupe Brochu and the owners of both companies, and is subject to approval by the Competition Bureau. However, until the latter confirms its approval, Olymel and Supraliment will continue to operate their current commercial activities independently and in keeping with their usual methods of business.

"This strategic partnership will enable us to combine our forces and to exploit the synergy of the separate brands without affecting our competitive operations in other business sectors," Denis Richard and André Brochu, respectively board chairmen of La Coop fédérée and Groupe Brochu, said.

Faced with many challenges in the industry, the two companies decided to combine their assets, best practices and solutions. These include, for example, issues associated with production and processing capacity, the emergence of major competitors on the domestic market, and the increasing demands from various foreign markets. By merging, the two companies plan to build on positive results of an initial partnership established in 2002 with Aliments Prince.

Réjean Nadeau, president of Olymel, said that the project has advantages for both companies.

"By fostering this partnership approach, we are focusing on the positive aspects of our differences while eliminating the roadblocks to our respective growth," he said. "We are combining, within a single structure, all the necessary elements to become a leader on the national and international markets."

Supraliment and Olymel market an extensive line of products mainly under the Olymel, Lafleur and Flamingo brands.

"Market evolution will dictate any future changes we will implement while continuing to respect existing agreements and to preserve current assets, and moving forward with controlled and sustained development," Laurent Brochu, executive vice president of Supraliment, said.

The value of the deal has been kept confidential but will take the form of a share block exchange.

The new company will operate plants and distribution centers in Quebec, Ontario, and Alberta. It is expected to generate sales of some CN$2.5 billion with products sold to more than 70 countries and will employ over 12,000 workers.

Supraliment is a key player in the Quebec pork processing industry. Olymel s.e.c. is a Canadian leader in slaughtering and processing pork and poultry.

Meanwhile, 550 workers at Olymel's St Hyacinthe plant in Quebec have reached a cost-cutting labor agreement with the company.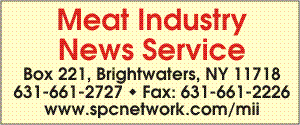 E-mail: sflanagan@sprintmail.com