050824 Cattle & Beef Most Impacted by Disease Outbreaks
August 6, 2005

Cattle and beef have been the species most dramatically impacted by disease outbreaks and related trade restrictions, according to a new report from USDA's Economic Research Service (ERS). And according to ERS, forecasts of 2005 U.S. animal-products trade reflect expected market responses given the uncertainties surrounding cattle and beef markets in the United States.

U.S. beef exports in 2003 reached record levels and were second only to Australia worldwide. The December 2003 discovery of a single case of BSE in Washington State made 2004 beef exports 82% lower at 461 million pounds. This drop reduced the U.S. share of beef exports by major traders from 18 to 3%. At the same time, U.S. beef imports in 2004 were 14% higher than the record set in 2002.

Meanwhile, U.S. pork exports have trended upwards and likely will continue to do so, while pork imports have declined. ERS says U.S. pork exports are forecast to rise 21% in 2005 to over 2.6 billion pounds, the 14th consecutive annual record. Imports are projected to decline by eight percent, after falling seven percent in 2004 from the previous year.

Imports of lamb and mutton in 2004 were up eight percent from a year earlier at 181 million pounds. Lower than expected first-quarter 2005 imports led to a reduction in the import forecast for the year, now projected at 177 million pounds, a two percent decline from 2004.

According to the report, lamb and mutton imports from Australia and New Zealand comprise a growing share of total U.S. lamb meat consumption at more than 45%.

Combined U.S. exports of broiler and turkey meat are expected to increase approximately six percent in 2005 to 5.6 billion pounds. The report notes that this forecast presumes that disease-related limitations on U.S. poultry meat exports are relaxed, while limits on China's and Thailand's exports remain and exports by Brazil do not undercut U.S. product.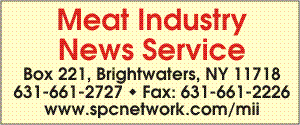 E-mail: sflanagan@sprintmail.com