050814 Two National Beef Plants Will Close on Saturdays
August 3, 2005

National Beef Packing Co., the fourth-largest U.S. beef producer, said it will close two plants in Kansas for one day a week because of excess supplies of meat.

Plants in Liberal and Dodge City, Kasas will halt slaughter operations on Saturdays "indefinitely," Kansas City-based National Beef Packing said Tuesday. The shutdown will reduce the slaughter by 10,000 cattle a week, the company said. The plants normally process about 70,000 animals a week, spokesman Keith Welty said.

"It is apparent the industry is killing too many cattle given current domestic beef demand and the continued closure of our largest export markets," president and chief operating officer Tim Klein said. "We will continue to monitor industry slaughter levels, demand and market share to determine future production schedules."

Tyson Foods Inc., Cargill Inc. and Swift & Co., the three largest U.S. beef packers, all trimmed capacity earlier this year as reduced cattle supplies, caused by a ban on Canadian cattle imports and slower beef demand, hurt operating margins.

The United States had 339.8 million pounds of beef in frozen storage as of June 30, up 6.8% from the end of May but down 17% from a year earlier, the U.S. Department of Agriculture said in a July 22 report.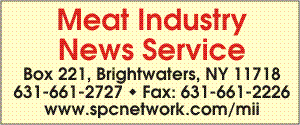 E-mail: sflanagan@sprintmail.com