050811 Sara Lee Posts Quarterly Loss
August 4, 2005

Chicago - Sara Lee Corp. posted a quarterly loss, compared with a year-earlier profit, due to charges associated with divestitures, higher pork and beef costs, continued pressure in the European retail market, and costs associated with divestitures.

In February, the maker of Sara Lee bread, Hanes underwear and dozens of other household products said it would spin off its U.S. apparel business and exit other lines to focus on U.S. meat, baked goods, household products and its Senseo coffee operations. The company had a net loss of $148 million, or 19 cents a share, in the fiscal fourth quarter ended July 2, compared with a profit of $354 million, or 44 cents a share, a year earlier.

Earnings in the quarter were 36 cents a share excluding one-time items like asset write-downs and severance costs related to the planned sale or spinoff of its U.S. and European apparel businesses and other lines, as well as tax-related items. On that basis, analysts on average forecast 31 cents a share.

Sales fell 4.6% to $1.06 billion due to divestitures and an extra week in the year-earlier quarter.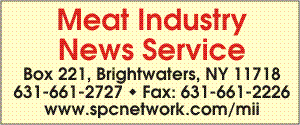 E-mail: sflanagan@sprintmail.com