050808 Large Pork Producer Changing Name to Seaboard Foods
August 6, 2005

Mission, KN - Seaboard Farms Inc., the nation's third-largest pork producer, said Thursday it is changing its name to Seaboard Foods.

The Mission-based company said the name change, effective immediately, reflects its move away from just raising hogs.

"Although we're proud of our strong farm heritage and our farms will remain a vital link in our integrated food system, Seaboard Foods does a better job of reflecting our strategic direction and emphasis on producing premium food products for domestic and international customers," company president Rod Brenneman said in a prepared statement.

Seaboard in May bought Missoula, Mont.-based bacon maker Daily's Inc. and a processing plant in Salt Lake City. The company also has pork production sites in Oklahoma, Kansas, Colorado and Texas. Its new processing plant in St. Joseph, Mo., will open this fall.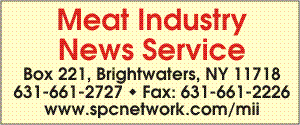 E-mail: sflanagan@sprintmail.com