050709 USDA challenges governor on state cattle inspections
July 23, 2005

Helena, MT - The U.S. Department of Agriculture is questioning the legality of an order by Gov. Brian Schweitzer that would result in a $3 to $5 fee on Canadian cattle crossing the border destined for Montana.

Schweitzer said on Thursday that he would require additional checks by veterinarians now that cattle shipments from Canada have resumed, and he estimated the cost would be $3 to $5 a head. He cited lingering concerns about importing cattle from a country that has reported three cases of mad cow disease during the past two years.

Terri Teuber, a spokeswoman for the USDA in Washington, said on Friday that agency attorneys had reviewed Schweitzer's order.

"We don't believe the state has the authority to charge a fee due to the burden it would cause on foreign commerce," she said. "With that said, we've not yet seen any proposed regulations or guidelines they intend to follow to conduct the inspections."

Schweitzer dismissed the legal concerns, saying, "We thank them for their advice, but meanwhile we will protect the interests of consumers and the cattle industry in Montana."

Owners or shippers have to pay for complying with federal mandates on cattle shipments, and the state has the authority to impose its own health requirements on cattle shipped into Montana, he said.

"If the United States Agriculture Department is suggesting the buyer and seller don't have to pay for it, then the United States Agriculture Department will have to pay for it," Schweitzer said. "The United States Department of Agriculture needs to recognize that states have an obligation to protect their consumers and their livestock industry."

Under Schweitzer's order, veterinarians acting on behalf of the state Livestock Department will inspect feeder cattle to determine if they are younger than 30 months, not pregnant and have the mandated "CAN" brand.

Owners of the cattle will be required to pay the veterinarians for the cost of the inspections.

Teuber said the USDA believes any state order that would require ranchers to pay an additional fee is inappropriate.

Schweitzer said his order is not a matter of Montana officials questioning Canadian compliance with USDA requirements, and he said he did not consider it a new restriction.

The United States banned Canadian cattle in May 2003 following Canada's first case of mad cow disease, the common name for a fatal brain-wasting disease called bovine spongiform encephalopathy, or BSE.

The ban was about to end in March when U.S. District Judge Richard Cebull in Billings granted a court order to a ranchers' group that kept the border closed. A federal appeals court threw out the injunction last week, and the first truckload of Canadian cattle crossed the border on Monday into New York state.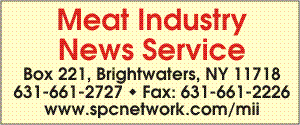 E-mail: sflanagan@sprintmail.com