050708 Gas Prices Change Pork Processor's Plans
July 23, 2005

Belleville, IL - High gas prices have caused a pork processing company to alter its plans to bring a bacon plant to the city.

Instead, BB Processing Inc. will build its corporate office and distribution center here, according to company and city officials.

"The big difference in our plans came from a year and a half of experience operating our plant in Rantoul," said Jim Altemus, vice president of marketing and communications for BB Processing. "Our original plan assumed it would be more efficient to have the bacon processed in Belleville since many of our customers are in the metro area. But the transportation costs tipped the economic balance.

"It is going to be much more economical to add onto the plant in Rantoul and only transport the finished product," Altemus said.

Schnucks and Imo's Pizza are among the company's top customers, according to Altemus.

City Economic Development Director and Planner Mike Malloy said the decision doesn't bother city leaders at all.

"It's really a win-win situation," Malloy said. "There will be many more workers there, plus it takes a potential large user of the sewer system out of the picture."

The city's strapped sewer system has played a major factor in the fate of food-related businesses before. Waste water from the Stag Brewery caused sewer problems that eventually contributed to its closing in the 1980s.

Instead of the bacon plant, BB Processing will spend $1.2 million to build its corporate offices and a warehouse and distribution center in the Belle Valley II Industrial Park.

The City Council has approved a development agreement with the company that calls for it to pay BB Processing $55,000 in tax increment finance money, rebate 74 percent of incremental property taxes associated with the 8,000-square-foot building and to work with the power company to try to keep utility rates low at the site.

In return, BB Processing must begin to build its corporate headquarters by the end of 2006 and its cold storage warehouse and distribution center by the end of 2008. It must employ 30 people by the end of 2007 and four more by the end of 2008.

"There are actually going to be more people working there on the front end than if the processing plant would have been there," Malloy said. "We're really pleased with the arrangement."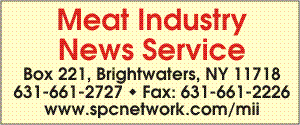 E-mail: sflanagan@sprintmail.com