050704 Hormel Plans Addition to Illinois Plant
July 23, 2005

Rochelle, IL. - Hormel Foods Corp. is planning a $6 million expansion of its meat processing plant in this northern Illinois city.

The Austin, Minn.-based food manufacturer plans to build a 27,500 square-foot addition to the plant to add a new line of microwaveable entrees, according to a building permit filed with the city.

Hormel spokeswoman Julie Craven declined to say how many jobs might be added as a result of the expansion. It now employs 790 workers at the plant in Rochelle, which is about 80 miles west of Chicago.

"Any jobs that it creates have an impact on the economy," said Jason Anderson, economic development director for the city of Rochelle. "From an economic development standpoint, when businesses are expanding where you're at, that is a good sign."

Hormel's filing also shows the company plans to remodel about 25,000 square feet of the existing plant.

Earlier this year Hormel completed a $12.2 million, 18,700 square-foot expansion to add a microwaveable bacon product, which is expected to eventually add 100 workers.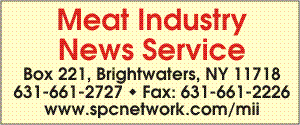 E-mail: sflanagan@sprintmail.com