050701 Court Lifts Ban On Canadian Beef
July 20, 2005

Des Moines, IA - The mad cow scare from across the Canadian border is apparently over.

This week, Canadian cattle are once again being shipped into the U.S.

The ban was also felt by U.S. meatpacking companies, which laid off an estimated 8,000 workers.

A federal appeals court ended Monday the two-year ban on Canadian beef.

The U.S. government banned Canadian cattle in May 2003 after Canada's first case of mad cow disease.

Canada has found two more cases since then. The U.S. also found two cases one in a Canadian cow and another in a Texas-born cow.

Canada can now ship beef products and cattle younger than 30 months into the U.S.

The beef industry estimates that Canada shipped 1 million head of cattle to the U.S. each year before the ban.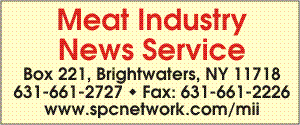 E-mail: sflanagan@sprintmail.com