050517 PETA Wants Info on Smithfield's "Animal Welfare" Program
May 30, 2005

An animal-rights group said that it is asking Smithfield Foods Inc. to disclose details about how it treats pigs before they're turned into meat products.

The Norfolk-based People for the Ethical Treatment of Animals will seek a shareholders' resolution asking Smithfield Foods to make public what the company refers to as its state-of-the-art animal welfare management system by releasing results of all audits of its farms and slaughterhouses.

"We've been trying to find out what their so-called animal welfare program is for years," said Bruce Friedrich, a spokesman for the Norfolk animal-rights organization who monitors agricultural animals.

After Smithfield Foods refused to turn over any documents, PETA filed a federal Freedom of Information Act request with the U.S. Department of Agriculture, but the agency disclosed only six of 132 pages of public records about the program, Friedrich said. "They claim their program is the model for the industry," Friedrich said of Smithfield, "but if you have something you claim is a model, you don't have to do everything in your power to hide it."

In large-scale meat processing operations such as Smithfield's, plant workers chop off tails, clip teeth and ears, and castrate male pigs without offering pain relief, PETA says, and leave the animals' medical conditions untreated. Pregnant and nursing pigs also are forced to live for months in metal gestation crates so small that they can't turn around.

A telephone message left for Smithfield Foods spokesman Jerry Hostetter was not returned Wednesday night. But Smithfield Foods' Web site said that the company uses checklists, inspections and audits to keep track of animals' well-being.

"Smithfield's employees, partners and suppliers are dedicated to enforcing a policy that protects the safety and well-being of our animals," the Web site said. "Smithfield complies with all applicable legal requirements regarding humane harvest practices."

PETA's shareholder proposal arrived Wednesday at Smithfield Foods' corporate offices, Friedrich said. It asks Smithfield to start reporting on its Web site beginning in 2006 the results of all audits conducted at company-owned and supplier plants.

On its Web site, Smithfield says the animal welfare practices have been audited, but doesn't disclose the results. It says each Smithfield company that implements the animal welfare program is audited by the U.S. Department of Agriculture.

The shareholder proposal also lists "current abusive practices," including castration, mutilation and confinement. In addition, the proposal mentions that more pigs are becoming crippled or are dying while being taken to slaughter as a result of the wider use of bulk-enhancing drugs.

The resolution calls for Smithfield to spell out the full details of the animal welfare management system and to have a system in place to ensure that suppliers of the animals comply with the policy and punish those who aren't.

If Smithfield doesn't challenge the proposal, shareholders will vote on it at the company's annual meeting in the summer.

PETA hopes 3% of shareholders will vote for the proposal; next year, the goal is 5%.

"Shareholders generally go along with what the corporation recommends -- but it allows us to raise the issue with all these people and allow them to read the writing that's there," Friedrich said.

PETA and Smithfield Foods have sparred previously over Smithfield's portrayals of the treatment of animals at its plants, and since 2001 activists have appeared at annual shareholders' meetings to cite examples of what they said are abusive practices.

Factory farming applies industrial production methods to raising animals for meat. It has resulted in more and cheaper products, but continues to draw concern about the animals' well-being, pollution caused by the animals' wastes and the shuttering of traditional family operations.

Florida voters outlawed gestation crates in a ballot initiative in 2002, and the European Union has passed legislation to ban the confined animal facilities over the next decade.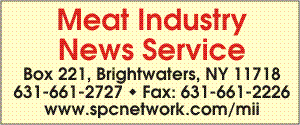 E-mail: sflanagan@sprintmail.com