050515 Michigan Company Executes 3-State Recall
May 30, 2005

Eastpointe, MI - A Michigan company is recalling about 363,330 pounds of ready-to-eat meat products because of possible listeria bacteria contamination.

The U.S. Department of Agriculture announced the recall by Winter Sausage Manufacturing, based in the Detroit suburb of Eastpointe.

Retail stores and institutions in Michigan, New York and Ohio sold the products, which include Italian sausage, cooked corned beef, beef hot dogs, halal bologna, bratwurst and boneless ham.

The contamination was discovered through the USDA's sampling program at the company's plant, USDA spokeswoman Amanda Eamich said.

Products being recalled bear the code ``EST 10158'' inside the USDA inspection mark.

Listeria monocytogenes can cause serious and sometimes fatal infections. Young children, the frail or elderly people and others with weakened immune systems are especially vulnerable.

In April, the company recalled numerous meat products for similar reasons, the Michigan Department of Agriculture said.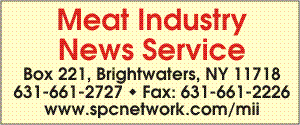 E-mail: sflanagan@sprintmail.com