050508 Mississippi State Finds No Buyer For Beef Plant
May 13, 2005

Oakland, MS - The State of Mississippi has been unsuccessful in its efforts to find a buyer to operate the former Mississippi Beef Processors facility in this North Mississippi community, according to the Mississippi Development Authority (MDA). Now, state officials will have to determine how to cover the entire financial burden of the idled, $55-million facility.

"While there continues to be a great deal of interest in the plant, ultimately we couldn't reach a beneficial agreement with any of the prospective buyers'" stated Scott Hamilton, director of communications at the MDA. "The beef-processing market is in a cyclical trough that is simply too deep for those who expressed an interest to accept the risk of a new facility at this time."

To market the facility, the MDA sent 670 brochures nationwide to meat-processing concerns and made phone calls to those companies specializing in beef grinding. The agency ran advertisements in two national trade magazines and created a comprehensive Web site on the facility. These efforts have thus far yielded 25 serious inquiries from across the country with 11 separate groups visiting the facility.

The agency received several bids for the facility. Originally, the MDA said it expected to conclude negotiations with prospective buyers no later than April 28, with a closing date on or by May 28. However, satisfactory agreements to move forward with the sale could not be reached with any of the parties.

"We appreciate the efforts of our bidders and are very disappointed that we couldn't find a buyer at this time that would help us recoup some of the taxpayers' investment or bring the jobs back," Hamilton said. "MDA will continue to support Community Bank's efforts to find a buyer for the plant, and are hopeful it will be put back to good use in due time."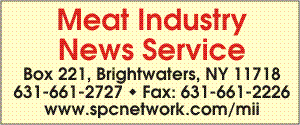 E-mail: sflanagan@sprintmail.com