050505 Japan Comes Closer to Accepting U.S. Beef
May 15, 2005

Tokyo - Lawmakers from Japan's ruling party endorsed a plan for the food regulators to consider lifting the country's costly ban on American beef imports, an official said.

A committee of the Liberal Democratic Party met with officials from the Agriculture and Health ministries to discuss the plan, a step toward renewing shipments of U.S. beef products, according to Hideshi Michino, a Health Ministry official.

The Food Safety Commission last week recommended that the government waive mad cow disease tests for domestic cattle younger than 21 months, a move that would open the door to imports of beef from younger American cattle.

Japan barred American beef imports in December 2003 after the discovery of the first U.S. case of mad cow disease. The human variant of the fatal illness is believed linked to eating infected meat.

Michino said the government could ask the Food Safety Commission as soon as the end of this month to start deliberations on whether American beef is as safe as Japanese beef. The government, however, wants to collect public comment on its plan before going ahead.

The import ban closed U.S. beef's most lucrative overseas market, and Washington has been pressuring Tokyo to allow shipments to resume.

The Japanese government will start seeking comments from consumers and industries about U.S. beef imports starting Friday and continuing until May 20.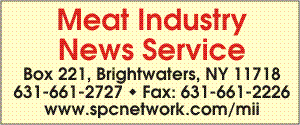 E-mail: sflanagan@sprintmail.com