050416 Exports, Protein-Heavy Diets Help Pork Industry Recover
April 14, 2005

Kansas City, MO - A rise in overseas sales, due partly to concerns over the safety of beef, and the popularity of diets high in protein and low in carbohydrates have helped fuel big gains in the U.S. pork industry.

The top three hog producers - Smithfield Foods Inc. of Smithfield, Va., Kansas City-based Premium Standard Farms and Shawnee Mission, Kan.-based Seaboard Corp. - each reported large jumps in sales and profits during 2004.

The benefits even trickled down to individual hog farmers who for years have coped with rock-bottom livestock prices.

"It's been a long time," said Jon Caspers, a producer in Swaledale, Iowa, and former president of the National Pork Producers Council. "I think a lot of people had given up hope."

Glenn Grimes, an agricultural economist at the University of Missouri-Columbia, said the industry sold 20.5 billion pounds of pork last year, compared with 19.95 billion pounds in 2003.

"It was a record year," Grimes said, adding that pork processors slaughtered a record 103.5 million head of hogs during 2004. "Prices increased, but not due to lower production of pork."

Exports jumped almost 30 percent by weight to 1.65 billion pounds, and 35 percent by value to $1.88 billion.

The reason for overseas gains is twofold, said Steve Meyer, president of Paragon Economics in Des Moines and a consultant to the Pork Producers Council. Many countries that have banned U.S. beef over concerns with cattle infected with mad cow disease, formally known as bovine spongiform encephalopathy, have switched to pork as a meat substitute, he said. In addition, the weak U.S. dollar has made domestic pork cheaper than that sold by Canada and Europe.

The biggest increase within exports were what the industry calls "variety meats," which include snouts, organs and feet.

"There's a huge demand for variety meats," Meyer said. "They're generally lower value meats and fit into economies that may not have a lot of purchasing power. It's also a difference culturally: Things we think are waste they think are delicacies."

In the United States, people on low-carb diets, such as Atkins or South Beach, also bought pork in greater numbers, Meyer said.

Looking ahead, Meyer said 2005 should remain strong as exports are still up, the dollar is still struggling and major beef importers, such as Japan, have yet to lift their bans.

"I don't think we're going to jump 29 percent again," he said. "If you can come up with a positive number a year after a 29 percent increase, you've accomplished something."

Caspers said 2004 was very different from 1998 when a surplus of hogs drove prices for producers to single-digits. Since then, the packing plants have expanded and are better able to handle as many hogs as producers can give them, keeping the prices relatively stable.

Also helping producers last year was cheaper grains used for feed. Corn dropped from around $3 a bushel to $1.75, Caspers said.

The nation's top producer, Smithfield Farms, said a 48 percent increase in live hog prices helped increase hog sales 63 percent for the nine months ending Jan. 30 to $1.6 billion and pork sales increased during that period 39 percent to $5.7 billion.

Premium Standard, which recently registered for an initial public offering, reported total sales for pork processing and hog production at $1.1 billion for the nine months ending Dec. 25, up 30 percent from 2003.

Seaboard reported 2004 pork sales of $961.6 million, up 31 percent from the year before.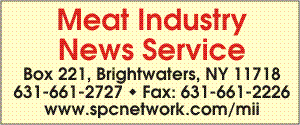 E-mail: sflanagan@sprintmail.com