050412 Experts in Japan & Korea to Facilitate Beef Exports
April 18, 2005

Washington - Agriculture Secretary Mike Johanns announced that a team of experts on Bovine Spongiform Encephalopathy (BSE) will travel to South Korea and Japan as part of the continuing efforts to resume U.S. beef and beef product exports.

"We look forward to these opportunities in South Korea and Japan to further demonstrate the safety of U.S. beef and that our system complies with international science-based guidelines for trade," said Johanns.

The delegation, led by Deputy Under Secretary for Marketing and Regulatory Programs Charles Lambert, will review how U.S. BSE prevention programs ensure the safety of U.S. beef. In addition, members of the delegation will encourage both governments to adopt import regulations that are in closer compliance with the World Organization for Animal Health (OIE) guidelines.

The team will first travel to South Korea April 19-22 for technical discussions with government officials and informational sessions with local media. From April 25-27, the team will be in Japan for technical discussions and sessions with consumers, scientists, government and business representatives.

Following the delegation's travel to South Korea and Japan, both countries are expected to send technical teams to the United States to review beef production and processing systems as a further step toward resuming imports of U.S. beef.

In 2003, the United States exported approximately $1.4 billion and $815 million of beef and beef products (including variety meats) to Japan and South Korea respectively. Together these markets represented 57 percent of total U.S. exports by value. To date, approximately $2.5 billion of U.S. beef and beef product exports to all destinations are still banned, with Japan and South Korea accounting for 87 percent of the export value. Over 60 countries import from the United States.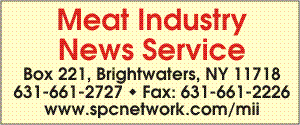 E-mail: sflanagan@sprintmail.com