050401 Company Launches A Hybrid Meat-Soybean Health Food.
April 14, 2005

Natural Harmony Foods Inc., Ft. Lauderdale, Florida, introduced its line of SoyLean brand products. The company says it will create a new food category in the natural foods market.

Natural Harmony Foods' SoyLean brand products combine the taste and nutrition of all-natural, lean beef, chicken, and pork with the health benefits of soybeans. The company's signature SoyLean Flame Broiled Beef Patties are now available direct-to-the-consumer via the Internet (www.naturalharmonyfoods.com). Natural Harmony Foods intends to launch four more SoyLean products in the coming weeks: SoyLean Breakfast Sausage, SoyLean Chicken Patties, SoyLean Beef Crumbles, and SoyLean Chicken Strips. Additionally, the company is currently in negotiations to bring SoyLean to supermarkets and natural food stores across the eastern United States over the next several months.

Natural Harmony Foods said it caters to an increased interest in healthier versions of familiar foods with little or no sacrifice in taste. Each SoyLean beef patty, for example, weighs 2.5 ounces, equivalent to a regular quarter-pound hamburger after cooking, and retains the natural meat texture found in all-beef hamburgers. Each patty also is 95 percent fat free and made with natural, lean beef -- which has not been administered growth promoting hormones or antibiotics and was raised on an all-vegetable diet.

"Natural Harmony Foods enters a marketplace replete with either all meat-based or all vegetable-based products," Sam Dewar, CEO and founder of Natural Harmony Foods, explained. "We believe we have found an underserved gap in the food market - consumers who enjoy the taste of beef, chicken and pork but want lower fat and are aware of the health attributes of soy. By combining lean meat with soy protein, SoyLean products achieve a healthy, great-tasting balance that is currently not available via any other product in the marketplace."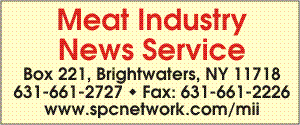 E-mail: sflanagan@sprintmail.com