050142 Tyson Announces Temporary Closure of Beef Plants
January 12, 2005

Tabor, IA - "This really limits the number of markets we have," he said two days after Tyson Foods Inc. announced it would temporarily close three of its Midwest beef packing plants, including its Denison facility.

Trowbridge, with Gregory Feedlots near Tabor, said while the news is not good for Iowa beef producers, it isn't surprising.

"Other plants have been cutting back on hours, so you thought something like this might be coming," he said. "We've always considered ourselves fortunate to have a plant this close to us, so having it closed definitely puts us in a much more difficult position."

According to a statement from John Tyson, chairman and CEO of Tyson Foods, poor profit margins forced the company to close the plants for three to five weeks, beginning Jan. 10.

"This is a difficult decision. However, we believe it's the right thing for us to do at this time, especially given the challenging market conditions and unfavorable operating margins our beef business continues to face," he said Jan. 6.

"Our plants have been running at less than 75 percent of capacity over the past two months, which is 10 to 15 percent below historical levels."

U.S. packers have said fewer fed cattle have translated into poor margins. Most major packers have lobbied for the reopening of the Canadian border to fed and feeder cattle to boost U.S. numbers.

"We anticipate cattle numbers will increase in the coming months," said Gene Leman, senior group vice president of Tyson Fresh Meats.

"We also look forward to the previously announced reopening of the U.S. border to Canadian cattle in early March, which will especially benefit our plants in the Upper Midwest and Pacific Northwest."

USDA announced late last year imports of Canadian cattle could begin as early as March 7.

The shutdown is expected to reduce the company's weekly cattle slaughter by 25,000 to 30,000 head.

Plants also will be closed in Norfolk and West Point, Neb., as well as Boise, Idaho. Production will be reduced at the Pasco, Wash., facility.

The temporary closure affects 2,100 workers nationwide, including 275 at Denison.

Tyson spokesman Gary Mickelson said the company is not anticipating plants being closed more than five weeks.

"Obviously, the market will dictate when they reopen," he said Jan. 7.

"We're anticipating an increase in cattle numbers with cattle coming in from Canada, and that helps some in the Upper Midwest and particularly in the Pacific Northwest."

Trowbridge says his operation markets about 80 percent of its cattle to the Tyson plant in Denison. He's located less than an hour from Omaha and hopes to attract interest from other packers.

"I haven't spoken to our area buyer to see if they are going to be buying cattle and sending them elsewhere or if they aren't going to be buying cattle at all during this," Trowbridge said.

Mickelson said Tyson will help producers when it comes time to sell their cattle.

"We will be working with our producers who supply our plants and possibly divert their cattle to other plants," he said, adding the closest plant to Western Iowa would be in Dakota City, Neb.

"We're asking our producers to be patient. These are unusual times for the beef industry."

Trowbridge said losing the Denison plant, even for a short time, will hurt.

"We sell a lot on a grid system, into CAB (Certified Angus Beef) and programs like that," he said. "That's been one of our best grid markets, so it will definitely change the way we market cattle."

Trowbridge added if there is a silver lining in this dark cloud, it's the fact he will not be selling a lot of fed cattle over the next 60 days.

"We won't have a lot to sell, so the timing isn't bad," he said. "If this had come in April and May, when we will have 3,000 to 4,000 to sell, it would have been much worse."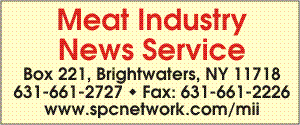 E-mail: sflanagan@sprintmail.com