050126 Superior Farms New Refrigerated Meat Pasta Sauces
January 11, 2005

Davis, CA - Superior Farms, the largest processor of lamb and veal in the United States, announces the launch of "Cucina Superiore," a new brand of gourmet refrigerated meat pasta sauces. Available immediately for retail sale, the brand consists of four varieties -- Original Beef Recipe, Zesty Italian Sausage, Beef and Portobello Mushroom, and Creamy Chicken Parmesan.

Available in the meat department and refrigerated for freshness, Cucina Superiore meat pasta sauces are naturally delicious and easy to prepare! Just microwave the refrigerated sauce for 4-5 minutes and pour it over your favorite pasta, rice or vegetables for a quick, convenient and affordable gourmet meal. Try it in lasagna or over bread for a unique bruschetta.

The chefs at Cucina Superiore use only the finest ingredients to make the slow cooked and delicious pasta sauces. Fresh tomatoes, onions, garlic and Portobello mushrooms as well as natural herbs and seasonings, extra virgin olive oil, California white and Burgundy red wine make Cucina Superiore refrigerated meat pasta sauces a high-quality alternative to sauce in a jar. And don't forget, Cucina Superiore sauces have lots of meat -- hearty beef, zesty Italian pork sausage, and flame grilled chicken.

"Until now, families wanting fresh meat pasta sauce have either had to cook all day or add their own meat and fresh vegetables to bottled sauce. Neither alternative was fast or easy. Cucina Superiore solves that problem for today's busy families by combining lots of hearty meat and fresh vegetables into an easy-to-prepare, great tasting premium pasta sauce," says Les Oesterreich, CEO of Superior Farms. "Cucina Superiore allows us to extend our offering of high quality meat products in an easy-to-prepare and affordable format."

Superior Farms is the largest processor of lamb and veal in the United States. Headquartered in Davis, California, and employee owned, Superior Farms' variety of meat products, marketing programs, processing locations and national customer base contribute to over 40 years of growth, success and on-going commitment to the meat industry.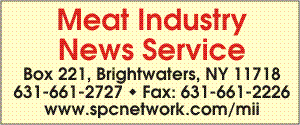 E-mail: sflanagan@sprintmail.com