041209 Poultry Farmers Eye Trade Policy
December 3, 2004

Mobile, AL - Poultry industry officials say a surge in product sales to Cuba could be halted by the Bush administration's attempt to reinterpret a 2000 trade law covering payment for the shipments.

"It could result in a complete loss in sales," said Richard Lobb, a spokesman for the National Chicken Council in Washington, D.C.

Poultry sales to Cuba more than doubled to $61 million in the past year, but Lobb said the change — if adopted — requires Cuba to deposit money for the purchases in U.S. banks before shipments leave port for Havana.

"Such a reinterpretation of this law would be a reckless act at the expense of Alabama's poultry farmers and producers," said Alabama Agriculture Commissioner Ron Sparks, who has traveled to Cuba supporting trade ties.

Food giants Tyson, Louis Dreyfus Corp. and Gold Kist Inc. currently ship about 15,000 tons of Alabama-raised poultry to Cuba, Alabama Port Director and CEO James K. Lyons said in a Nov. 29 letter to U.S. Sen. Richard Shelby, R-Ala.

Ports and growers in the Southeast share in shipments to cuba, including those in Mississippi.

Treasury spokeswoman Molly Millerwise said the review of the 2000 law began when some U.S. financial institutions handling Cuba's purchases asked the government to clarify the policy.

"We expect to issue guidance in the near future," she said.

She declined to speculate on the final decision or the extent of a lobbying campaign against any change in the payment system. She said the U.S. Agriculture Department and State Department were working with Treasury on the issue.

The United States has maintained embargoes of various forms against Cuba for more than 40 years to pressure the communist-controlled island to make democratic and economic changes. Now Bush has named Cuban-born Carlos Gutierrez to his Cabinet as secretary of commerce and he's expected to support the president's policies of blocking most trade with Fidel Castro's government.

Agricultural products are only part of the multimillion-dollar trade with Cuba pegged to the 2000 law. Sales to Cuba are required to be in cash, but nothing is unloaded from vessels until Cuba's payments are deposited in a bank.

Federal officials, however, have been looking at the terminology "payment in advance" versus "cash against documentation" in the law to determine whether it extends a line of credit to Cuba.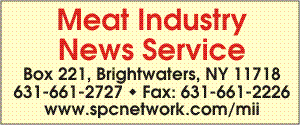 E-mail: sflanagan@sprintmail.com