041206 USDA Probes Beef Plant Accused of Abuse
December 4, 2004

Washington, D.C. - U.S. Agriculture Department investigators are checking a kosher slaughterhouse in Postville, Ia., that animal-rights activists have accused of abusing cattle.

Five Agriculture Department officials were sent to the AgriProcessors Inc. plant, including a regional veterinary officer from another area of the country, said Steven Cohen, a spokesman for Agriculture Department's Food Safety and Inspection Service.

People for the Ethical Treatment of Animals released a video earlier in the week showing cattle struggling and thrashing after having their throats slashed and trachea and esophagus torn out.

"We had meetings with people in that plant and people associated with the plant and our inspectors over the last couple of days," Cohen said.

In conventional packing plants, cattle are knocked unconscious with a mechanical device before they are bled and dismembered. Federal law allows for kosher procedures that involve slashing the animal's throat. Death is supposed to occur quickly, but experts consulted by PETA were sharply critical of the practices taped at the Postville plant.

Cohen said he was unaware of any legal actions that had been taken against the plant for mistreatment of animals.

The world's largest kosher certification authority, New York-based Orthodox Union, said it would ask AgriProcessors to stop tearing the trachea and esophagus out of the animals..

Israel's chief rabbinate also has raised concerns about the practices shown in the video.

Telephone calls to officials with Orthodox Union and AgriProcessors were not returned Friday.

The plant is licensed by the state, but the Iowa Department of Agriculture and Land Stewardship is deferring to the U.S. Department of Agriculture on the investigation, an agency spokeswoman said.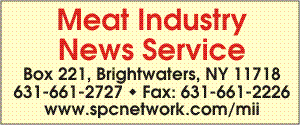 E-mail: sflanagan@sprintmail.com