041204 Banned Beef And Borders Dominate Talks
December 1, 2004

Ottawa, Canada - George W. Bush threw the weight of the presidency behind the opening of U.S. borders to Canadian beef and cattle "as quickly as possible" yesterday, but did not deliver the firm deadline that Canadian cattle farmers wanted and a federal minister had promised.

The U.S. President insisted he can do nothing more than push a new regulation opening the border through the American bureaucracy. It would then still need to get through the U.S. Congress to come into effect.

In a meeting with Prime Minister Paul Martin at the Asia-Pacific summit in Santiago Nov. 20, Mr. Bush had indicated that new regulations to open the border were being sent to the U.S. Office of Management and Budget, a move that sets in motion a series of deadlines that could fully open the border to Canadian beef within six months.

"I have sent word over that they need to expedite that request as quickly as possible," Mr. Bush said yesterday at a press conference with Prime Minister Paul Martin.

"I understand the pressures placed on Canadian ranchers. I believe that as quickly as possible, young cows ought to be allowed to go across our border . . . I hope we can get this issue solved as quickly as possible."

The Office of Management and Budget must take 60 to 90 days to review the regulation, and then Congress has 60 days to decide if it will override the move. The U.S. imposed a ban on Canadian beef and cattle when a single case of mad-cow disease was discovered in May, 2003, although the ban was later lifted for some cuts of meat.

Mr. Martin expressed the hope that the rule change will move quickly. "One very much hopes that the time delays which are set out can be cut short simply as a result of the fact that this has been studied to death," he said. But he did not provide a more specific timeline for the opening of the border, despite an assertion by Foreign Affairs Minister Pierre Pettigrew earlier this week that a "timetable" and "clear commitments on the part of the United States" would be announced during Mr. Bush's visit.

"There's a bureaucracy involved. I readily concede we've got one. I don't know if you've got bureaucracy here in Canada or not, but there are a series of rules that have to be met in order for us to be able to allow the trafficking of cows back and forth, particularly those 30 months and younger," Mr. Bush said.

Stan Eby, president of the Canadian Cattlemen's Association, said later that even a one-month reduction in the delay will mean a substantial gain for the industry. "We are somewhat disappointed, [but] we have a sense that President Bush is trying to find a way to shorten the time for this," he said.

Much of the nitty-gritty of discussions between the two leaders focused on border security and trade, with both lending weight to advancing the so-called "smart-borders" initiative to increase security and smooth trade flows.

Deputy Prime Minister Anne McLellan pressed the need for a new bridge or tunnel at the busy Detroit-Windsor border crossing.

"The Deputy Prime Minister talked about her need for an additional bridge which she asked us to consider," Mr. Bush said. "My point is I believe it is possible to be able to deal with terrorist activity and illegal activity and at the same time have a robust commercial relationship." That issue and other border-security initiatives are expected to be discussed at a meeting between Ms. McLellan and outgoing U.S. Homeland Security Secretary Tom Ridge — who announced his resignation yesterday — at a meeting scheduled for Dec. 17, officials said.

Mr. Bush and Mr. Martin lent their weight to already announced border initiatives such as the pilot project at the Buffalo-Fort Erie crossing. U.S. customs officers there will clear trucks on the Canadian side of the border because of difficulties in expanding the border post on the crowded Buffalo side.

Business groups hailed that talk as a step forward, but Perrin Beatty, president of the Canadian Manufacturers and Exporters, noted "there was very little that was concrete." In particular, there was little progress on the continuing softwood-lumber dispute that has seen hefty levies on Canadian exports, despite trade-panel rulings against the U.S. duties.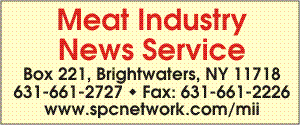 E-mail: sflanagan@sprintmail.com